Football match fixing is quite prevalent and any football fan knows they happen more often than they like to believe. We can certainly understand the betting and lure of bribes in Asia, where players play for pittance. We certainly want to spit at those playing in the top leagues, earning 6 figures in euros and USD per week, and still being linked to taking bribes to throw matches. Followers of football globally know that the Italian League is one of the worst culprit in Europe. In Asia, well China, Malaysia and Singapore are rampant.
What is interesting is that Singapore and to a certain extent Malaysia, are regarded as the brain centers in fixing and bribing most matches. To coordinate betting, most big punters are from HK, Indonesia, Singapore and Malaysia in that order. Bets will be funneled through the bookmakers' board and aggregated in Singapore so that they know the slant of betting. If you operate as a big syndicate alone in Malaysia, you may only be holding RM2m-4m per match for a Premier League game (could reach RM8-10m for a weekend match). But if you work with the top guys from these 4 places, you will know that total bets can reach USD30m-50m per normal match (a lot more if its a World Cup match). With that kind of flow, one can hive off 10%-20% to secure a match, with every major bookie in the know and adjusting goals offered accordingly to secure more bets on the "certain losing side".
Once bribes have been secured, they will get more bets from punters on the "certain losing side", and place out bets on the other side onto betting sites such as Bet888, William Hill, TopBet, BetOnline, etc...
As you can see, it will get to a stage where the top bookies will work with the top betting sides. Knowing the flow of betting, both parties will know what to do in "adjusting their betting lines". Hence its not just aggregating bets from Asia but they big betting houses must be in on it as well for the entire system to work. You cannot keep raping the big betting houses by laying off "strong bets" on them and for them not to do anything.
The internet has basically allowed match fixing to be done at the fastest speed, even to tweak results after the first half of a match.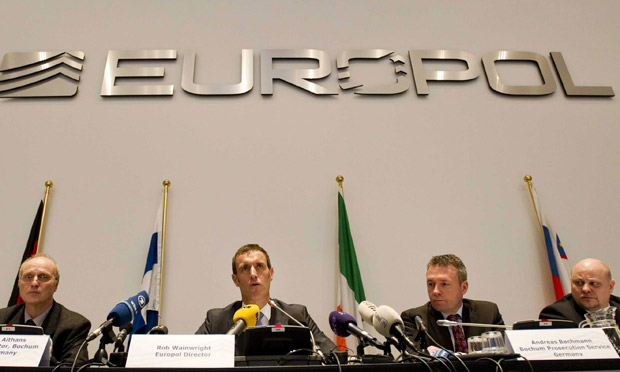 ----------------------------------
Singapore, which European investigators say is the source for hundreds of football matches being fixed in a global betting scam, promised yesterday to aid the probe, but some in the game said many of the revelations were nothing new.
About 680 suspicious matches including qualifying games for the World Cup and European Championships, and the Champions League for top European club sides, have been identified in an inquiry by European police forces, the European anti-crime agency Europol and national prosecutors.
"The authorities in Singapore are assisting the European authorities in their investigations into an international match-fixing syndicate that purportedly involves Singaporeans," the Southeast Asian city-state's police said in a statement.
"Singapore takes a strong stance against match-fixing and is committed to working with international enforcement agencies to bring down transnational criminal syndicates, including those that involve the acts of Singaporeans overseas, and protect the integrity of the sport."
Investigators said about 380 of the suspicious matches were played in Europe, and a further 300 were identified in Africa, Asia and Latin America.
The fixing could also include top-flight national league matches in several European countries, as well as two Champions League matches, including one played in Britain.
Danish newspaper Ekstra Bladet said that match was Hungarian side Debrecen's 2009 Champions League group match against Liverpool.
The report caused barely a ripple at Debrecen who said yesterday that it was merely raking over old ground.
Ekstra Bladet said match fixers intended to rig the betting market for total goals in the European club clash, which Liverpool won 1-0, and targeted Debrecen's Montenegrin goalkeeper Vukasin Poleksic.
Debrecen, however, said these allegations have already been dealt with by European football's governing body UEFA and Poleksic was given a two-year ban in 2010 for failing to report approaches from alleged fixers ahead of matches against Liverpool and Serie A side Fiorentina in Hungary.
The scourge of match fixing, according to one coach who was banned for helping to throw matches, will not go away quickly.
--------------------------------------
Recent article by ex-pro player Craig Foster
During my time as a professional player in Asia, I had some experience with how both match-fixing and organised crime can infiltrate football. Witnessing it gives you a perspective of how the game can be blighted by the people attracted to its glamour.
In Singapore in the early '90s, as a young man of 20, I played in the Malaysian competition. Just a few years later, they had over 80 players jailed for match-fixing.
Walking in as a naive Aussie kid, I found an entirely unfamiliar world where players didn't necessarily play to win, or for the team, but in which numerous gambling syndicates controlled players throughout the league and paid them either to win or lose, according to the odds.
Hard to believe, until I was approached in a Singapore nightclub and casually asked by a new acquaintance, who had obviously worked to ingratiate himself into my inner circle, to provide information on team selection and pitch status prior to games for cash.
He must have thought I was a loony, because I just stared at him, trying to comprehend what he was asking. That was that. An approach was made and, when no interest - or even understanding - was shown, they moved on.
We were aware of two major syndicates which competed against each other to buy players and, at times, both paid players in the same team - one to win, the other to lose. One of the syndicates was known for using the national lottery to pay their lackeys, through the following method: the syndicate would buy a winning lottery ticket from the lucky recipient for 110¢ for every dollar. They then used the ticket to pay the cheating player, who simply cashed it in. Simple, clean and untraceable.
We knew of a player in the league who had ''won'' the lotto at least three times. He must have been the luckiest guy around, or the crookest. We also knew of players who had their legs broken after failing to throw a game or wanting out of the racket.
In Hong Kong the following year, I saw a different side of the game, the association with organised crime. There was one man who was always at training, a mate to the players and seemingly a nice guy. I noticed he had a distinctive tattoo on his arm but thought nothing of it.
Following a successful cup run, though, this gentleman invited us to the Macau casino, into his own private room. Cognac and karaoke galore, until we were all silenced by a minder as two guards brought a very scared looking fellow into the room. They were struggling to hold him as he wriggled to break free.
The room host yelled and screamed at him, before pulling out a switchblade as the guards grabbed the guy's hand and held it forward. A cut was made from his forefinger to the base of the palm, to much screaming and blood. He was then thrown out of the room.
Turned out he owed money to the host, a money lender who had his runners on the casino floor. This is what happened - the first step anyway - if payment was not forthcoming. Needless to say, while the local boys already understood who he was, my night was brought to an abrupt end and I'm happy to have never laid eyes on this gentleman again.
Singapore and Malaysia was, otherwise, a wonderful place to play for many Australian professionals, including plenty of Socceroos who, like me, thoroughly enjoyed integrating into a new culture. It provided a beautiful perspective on the people and the region that leaves a lifelong passion and empathy.
To this day, my affection for Singapore, Malaysia, Hong Kong and other Asian football nations is undiminished, but many have a problem with gambling on football and the buying of players, referees and games. They're far from alone. Like chum in the water, cash attracts the sharks. In football there is money. Lots of it.
But there's plenty more besides. Kudos, political gravity, influence, fame, excitement, everything that is attractive to all walks of life, whether ethical or otherwise.
Talking about corruption, racism or any other of the issues we face in the world game must always be prefaced, at least in a country that has only recently fallen in love with the game, with the caveat that, as the world's most popular sport, we possess both the best and worst of mankind.
Dutchman Edgar Davids said this week football is a ''microscope to the world''. He's absolutely right. Without having travelled and experienced everything the game has to offer, and seen first-hand the incredible scale of football, this can be difficult to digest for those with a singular picture of how sport should be played. Football is played by the world and, just as in any other walk of life, the diversity reflects this.
For those of us who love the game, any stories of corruption and stains on its integrity are painful to take as even we struggle to understand why people use the game for nefarious purposes, but whether it is the cause of racism, which has been at the forefront recently, or match-fixing, the vaccine can only be administered once the wound has been opened and bled dry.


Read more: http://www.smh.com.au/sport/football/facing-the-ugly-side-of-the-beautiful-game-in-asia-20130205-2dwma.html#ixzz2K4xH15xV